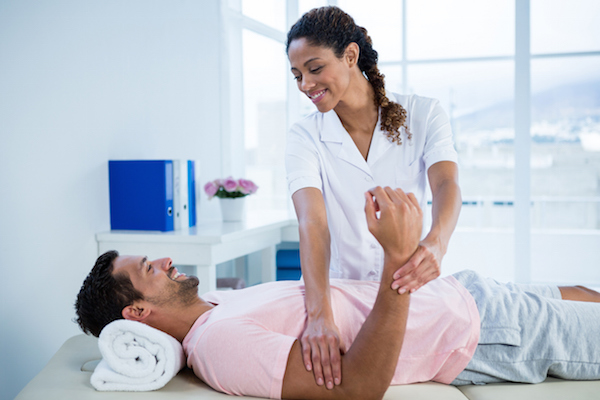 Massage Therapist/Physical Therapy Aide Program
The U.S. Bureau of Labor Statistics ranks Massage Therapy as one of the fastest growing occupations with a projected employment growth of more than 22% between 2014 and 2024. Physical Therapy has a projected job growth of 34% during the same time period.
Want a job that really makes people feel better? Get trained as a Massage Therapist/Physical Therapy Aide at A-Technical College (ATC). Imagine going to work each day relieving pain, reducing stress and helping others to be and feel their best. Attending ATC is a great way to prepare to be part of one of the fastest-growing professions in the health care industry. At A-Technical College we provide a hands-on program that prepares each student with valuable skills to become both a massage therapist and a physical therapy aide, thereby increasing employability.
---
Massage Therapist/Physical Therapy Aide PROGRAM OBJECTIVE
900 clock hours 
24 semester credit hours 
5 hours per day Monday through Friday
Courses Include:
Anatomy/Physiology and Medical Terminology
Massage Therapy Fundamentals
Body Mechanics and Injury Prevention
Therapeutic Modalities
Safety and Patient Care
Athletic and Sports Massage
Clinical Externship
A Massage Therapist provides medical massage treatment under the supervision of a physician. They also provide massage for relaxation and various treatments in a spa setting or as an independent contractor. Although the duties of massage therapists and/or physical therapy aides may vary depending on the type of practice and location, the training provided by A-Technical College addresses the skills requirements for both massage therapist and physical therapy aide equipping the student more employable skills in these forms of therapy.
A Physical Therapy Aide works under the direction of a licensed Physical Therapist or Chiropractor. They can also work in Sports or Orthopedic clinics and hospitals assisting patients and demonstrating use of supportive devices and therapy equipment.
The student is also provided training in basic clinical office procedures and the technical know-how to start a private practice. As in all A-Technical College programs, students not only attain skills proficiency as a massage therapist and physical therapy aide but also development of professionalism and life skills. All students are required to have CPR and First Aid Certification and Infection Control and Standard Precautions prior to client interaction. This program is divided into modules consisting both of lectures and skills laboratories with the last module as externship.
---
Interested in Training for a Career as a Massage Therapist/Physical Therapy Aide?
Training for a new career is easier than you think! Contact one of our Admissions Representatives today at (323) 277-9697 to learn more about our programs.
---
Consumer Information